Books & Videos
Check out the adoption resources available from Dr. Chaitra Wirta-Leiker and her unique "trifecta perspective" as a psychologist,
transracial adoptee & adoptive parent!
---
"My Adoption Story"
Activity Book for Elementary-Age Kids

Every adoptee needs to write their own story, but sometimes it can be tough getting started. This activity book uses helpful sticker sentence starters to get your adoptee thinking about all of the parts of their story, so they can fully express their thoughts and feelings about adoption. Sample pages by the author are included to guide your child in creating their story.
---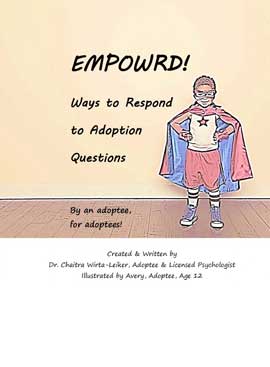 "EMPOWRD! Ways to Respond to Adoption Questions"
Activity Book for Elementary-Age Kids

Learn about and practice six simple and effective strategies for responding to other people's adoption questions in this fun activity book – developed by an adoptee, for adoptees!
---
"Videos & Recorded Webinars for Parents"
View the following videos & recorded webinars from Dr. Chaitra Wirta-Leiker's unique "trifecta perspective" as a psychologist, adoptee & adoptive parent:
Talking to Your Child's Teacher About Inclusive Family Trees
How Trauma Impacts the Adoptee Brain: Implicit Memories & the 6 F's
Responding to Trauma Reactions: Transitions & Separation Anxiety
Responding to Trauma Reactions: Homework Headaches
Responding to Trauma Reactions: Rages & Aggression
Responding to Trauma Reactions: Lying, Stealing & Hoarding
Responding to Trauma Reactions: Argumentative & Oppositional
Responding to Trauma Reactions: Bedtime Struggles
Creative Discipline Strategies that Build Healthy Attachment
The Best Ways to Handle Bullying at School
The Mixed Emotions of Adoption Anniversaries, Birthdays & Holidays
EMPOWRD! Ways to Respond to Adoption Questions
Emotional Preparedness for Homeland Visits
Name Changes in Adoption
Screening for an Adoption-Competent Therapist
How to Help a Child Narrate Their Adoption Story
How to Talk About Difficult Birth Histories: Abuse/Neglect/DV
How to Talk About Difficult Birth Histories: Substance Abuse
How to Talk About Difficult Birth Histories: Product of Rape/Prostitution
How to Talk About Difficult Birth Histories: Human Trafficking
Privilege, Racism & Oppression 101: Understanding the Lingo & System
Privilege, Racism & Oppression 101: Recognizing Microaggressions
Privilege, Racism & Oppression 101: How to Respond to Your Child After Negative Racial Incidents
Privilege, Racism & Oppression 101: S.H.A.R.E.D. Responses to Racism
Privilege, Racism & Oppression 101: Racial Mirrors, Maslow's Hierarchy & The Cultural Iceberg
7 Core Struggles of Adoptees Throughout the Lifespan: Loss
7 Core Struggles of Adoptees Throughout the Lifespan: Rejection
7 Core Struggles of Adoptees Throughout the Lifespan: Guilt/Shame
7 Core Struggles of Adoptees Throughout the Lifespan: Grief
7 Core Struggles of Adoptees Throughout the Lifespan: Identity
7 Core Struggles of Adoptees Throughout the Lifespan: Intimacy
7 Core Struggles of Adoptees Throughout the Lifespan: Control
Understanding & Responding to Adoption Trauma
Talking to Transracially Adoptive Kids About Race & Racism
---