Books, Videos & Trainings
UPCOMING TRAININGS:
*January 31, 2020 @ 11:00AM-12:30PM (MST)/12:00-1:30PM (CST) ~ MNAdopt Webinar: Strategies to Support Positive Racial Identity Development in Transracial Adoption ~ Learn strategies to support transracial adoptees of color as they navigate the development of their racial identity in childhood, the teen years, and young adulthood. Gain a deeper understanding of the complex "in-between" world of transracial adoptees, including the influence of language, culture, racial mirrors, and true diversity on their identity development. Considerations and tools for discussing and responding to various forms of racism in empowered ways will be shared. CLICK TO REGISTER
*April 18, 2020 @ 9:15-10:45AM (MDT) ~ Adoption as a Lifelong Journey: Seven Core Struggles & Transracial Parenting @ Hope's Promise (private event)
BOOKS & VIDEOS:
"The Adoptee Self-Reflection Journal"
Journal-Writing Prompts for Adopted Teens & Adults

This journal is for every adoptee who seeks to self-reflect and better understand their adoption journey, identity, and experiences. Over 50 prompts are included to guide exploration on a number of topics, including chapters entitled "In the Beginning," "Beliefs," "Wishes and What If's," "Relationships," "Boundaries," "The Media," and more.
---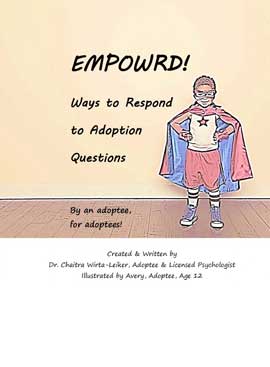 "EMPOWRD! Ways to Respond to Adoption Questions"
Activity Book for Elementary-Age Kids

Learn about and practice six simple and effective strategies for responding to other people's adoption questions in this fun activity book – developed by an adoptee, for adoptees!
---
"Videos & Recorded Webinars for Parents"
***During the month of November, all videos are 50% off in honor of National Adoption Awareness Month 2019 – use the promo code "NAAM2019" when you rent a single or all videos to receive your discount!***
View the following videos & recorded webinars from Dr. Chaitra Wirta-Leiker's unique "trifecta perspective" as a psychologist, adoptee & adoptive parent:
Talking to Your Child's Teacher About Inclusive Family Trees
How Trauma Impacts the Adoptee Brain: Implicit Memories & the 6 F's
Responding to Trauma Reactions: Transitions & Separation Anxiety
Responding to Trauma Reactions: Homework Headaches
Responding to Trauma Reactions: Rages & Aggression
Responding to Trauma Reactions: Lying, Stealing & Hoarding
Responding to Trauma Reactions: Argumentative & Oppositional
Responding to Trauma Reactions: Bedtime Struggles
Creative Discipline Strategies that Build Healthy Attachment
The Best Ways to Handle Bullying at School
The Mixed Emotions of Adoption Anniversaries, Birthdays & Holidays
EMPOWRD! Ways to Respond to Adoption Questions
Emotional Preparedness for Homeland Visits
Name Changes in Adoption
Screening for an Adoption-Competent Therapist
How to Help a Child Narrate Their Adoption Story
How to Talk About Difficult Birth Histories: Abuse/Neglect/DV
How to Talk About Difficult Birth Histories: Substance Abuse
How to Talk About Difficult Birth Histories: Product of Rape/Prostitution
How to Talk About Difficult Birth Histories: Human Trafficking
Privilege, Racism & Oppression 101: Understanding the Lingo & System
Privilege, Racism & Oppression 101: Recognizing Microaggressions
Privilege, Racism & Oppression 101: How to Respond to Your Child After Negative Racial Incidents
Privilege, Racism & Oppression 101: S.H.A.R.E.D. Responses to Racism
Privilege, Racism & Oppression 101: Racial Mirrors, Maslow's Hierarchy & The Cultural Iceberg
7 Core Struggles of Adoptees Throughout the Lifespan: Loss
7 Core Struggles of Adoptees Throughout the Lifespan: Rejection
7 Core Struggles of Adoptees Throughout the Lifespan: Guilt/Shame
7 Core Struggles of Adoptees Throughout the Lifespan: Grief
7 Core Struggles of Adoptees Throughout the Lifespan: Identity
7 Core Struggles of Adoptees Throughout the Lifespan: Intimacy
7 Core Struggles of Adoptees Throughout the Lifespan: Control
Understanding & Responding to Adoption Trauma
Talking to Transracially Adoptive Kids About Race & Racism
---