Books, Videos & Trainings
UPCOMING TRAININGS:
*September 27, 2019 @ 12:00-1:30PM (MDT) ~ Webinar: Bonding, Boundaries & Battles: Finding the Balance of Attachment-Focused Discipline in Adoption
Discover how brain development, implicit memories & the "6 F's" (Fight, Flight, Freeze, Friend, Fidget, Flop) influence your adoptive child's reactions to various methods of discipline. Learn compassionate & effective strategies for limit-setting & consequences that simultaneously enhance healthy attachment patterns in the parent-child relationship.
*October 10, 2019 @ 6:00-7:30PM (MDT) ~ The Seven Core Struggles of Adoption @ Denver Academy Adoptive Parent Support Group (private event)
*October 19, 2019 @ 9:15-10:45AM (MDT) ~ Adoption as a Lifelong Journey: Seven Core Struggles & Transracial Parenting @ Hope's Promise (private event)
BOOKS & VIDEOS:
"The Adoptee Self-Reflection Journal"
Journal-Writing Prompts for Adopted Teens & Adults

This journal is for every adoptee who seeks to self-reflect and better understand their adoption journey, identity, and experiences. Over 50 prompts are included to guide exploration on a number of topics, including chapters entitled "In the Beginning," "Beliefs," "Wishes and What If's," "Relationships," "Boundaries," "The Media," and more.
---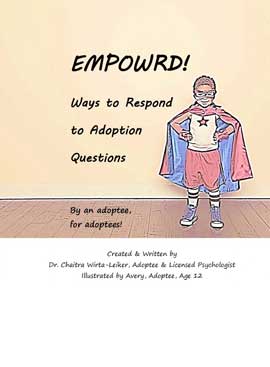 "EMPOWRD! Ways to Respond to Adoption Questions"
Activity Book for Elementary-Age Kids

Learn about and practice six simple and effective strategies for responding to other people's adoption questions in this fun activity book – developed by an adoptee, for adoptees!
---
"Videos & Recorded Webinars for Parents"
View the following videos & recorded webinars from Dr. Chaitra Wirta-Leiker's unique "trifecta perspective" as a psychologist, adoptee & adoptive parent:
Talking to Your Child's Teacher About Inclusive Family Trees
How Trauma Impacts the Adoptee Brain: Implicit Memories & the 6 F's
Responding to Trauma Reactions: Transitions & Separation Anxiety
Responding to Trauma Reactions: Homework Headaches
Responding to Trauma Reactions: Rages & Aggression
Responding to Trauma Reactions: Lying, Stealing & Hoarding
Responding to Trauma Reactions: Argumentative & Oppositional
Responding to Trauma Reactions: Bedtime Struggles
Creative Discipline Strategies that Build Healthy Attachment
The Best Ways to Handle Bullying at School
The Mixed Emotions of Adoption Anniversaries, Birthdays & Holidays
EMPOWRD! Ways to Respond to Adoption Questions
Emotional Preparedness for Homeland Visits
Name Changes in Adoption
Screening for an Adoption-Competent Therapist
How to Help a Child Narrate Their Adoption Story
How to Talk About Difficult Birth Histories: Abuse/Neglect/DV
How to Talk About Difficult Birth Histories: Substance Abuse
How to Talk About Difficult Birth Histories: Product of Rape/Prostitution
How to Talk About Difficult Birth Histories: Human Trafficking
Privilege, Racism & Oppression 101: Understanding the Lingo & System
Privilege, Racism & Oppression 101: Recognizing Microaggressions
Privilege, Racism & Oppression 101: How to Respond to Your Child After Negative Racial Incidents
Privilege, Racism & Oppression 101: S.H.A.R.E.D. Responses to Racism
Privilege, Racism & Oppression 101: Racial Mirrors, Maslow's Hierarchy & The Cultural Iceberg
7 Core Struggles of Adoptees Throughout the Lifespan: Loss
7 Core Struggles of Adoptees Throughout the Lifespan: Rejection
7 Core Struggles of Adoptees Throughout the Lifespan: Guilt/Shame
7 Core Struggles of Adoptees Throughout the Lifespan: Grief
7 Core Struggles of Adoptees Throughout the Lifespan: Identity
7 Core Struggles of Adoptees Throughout the Lifespan: Intimacy
7 Core Struggles of Adoptees Throughout the Lifespan: Control
Understanding & Responding to Adoption Trauma
Talking to Transracially Adoptive Kids About Race & Racism
---